February 18, 2018
Freshers Party Anchoring Script in hindi – फ्रेशर्स पार्टी एंकरिंग स्क्रिप्ट, फ्रेशर्स पार्टी हिंदी में स्क्रिप्ट प्रस्तोता, frehser's party anchoring quotes in hindi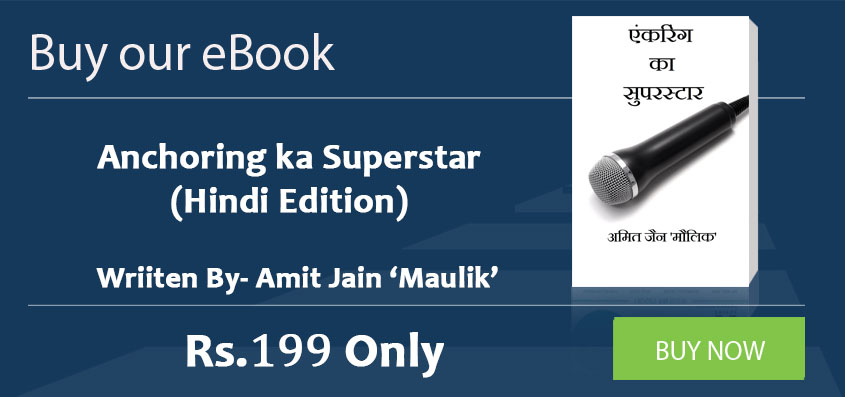 9. Girls group dance 'DJ wale mera gaana'
Anchor male– O my God, in newbies ko dekhakar lagta nahi ki ye itne chaalu kism ke hain!! Chalo koi na aaj chhut hai. Vaise sach kahun to mera bhi seetiyan maarne ka man kar raha tha. Well balle.. bahut hi badhiya performance thi. Now next girls group dance performance hai 'dj wale mera gaana tu baja de' ko lekar aa rahi hain 1……., 2………, 3………., 4……….. mai inko chaar panktiyon ke saath invite karta hoon ki..
Ghata ki aankh se
kajal chura ke laya hun,
Gagan ke chhor se
badal chura ke laya hun,
Chura ke laya samndar se
hastraton ka nasha,
Mai aaj ishq ki mahfil
chura ke laya hun.
(Prastuti samapt)
Anchor female– wa wa wah.. superb. Jordar taliyan. (Thoda ruk kar) are ye koi taliyan hui??? Dekho ye hamare beech ke hi artist hain. Koi professional performer nahin. Bahut mehnat aur bada hausla lagta hai yun stage par bina kisi mistake ke perform karna. So guys you all requested to appreciate warmly to our colleagues. Aap logon ko 4 lines kahti hoon ki..
Nayee hawa hai nayee lahar hai
Nayee mahak hai matwali
Aur naye kuch mausam laayee
Duniya bhi sapno wali
Ham to rang jamaane baithe
Rangon me nahla denge
Chalo karen fir shuru baza den
Ek baar khul kar taali.
Jordaar taliyan… Ye hui na baat. Dekho ab aise hi taliyan aati rahni chahiye har performance ke upar.
10. Boys Group dance ' love dose'
Anchor male– bilkul theek kaha stuti, aakhir taaliyan hi to maang rahe hain kaun sa kharcha paani maang rahe. Now move forward and I m going to invite next boys  group dance performance. Song hai 'mujhe de de love dose..' aur isko lekar aa rahe hain 1……, 2…….., 3…….., 4……..
Performance pesh ki jaaye…
(Prastuti ka samapan)
11. Boy's solo dance 'kala chasma'
Anchor female– Great great.. maza aaya na. To ho jaaye fir se jordar taaliyan. That's it. Thank you, now it's turn to next performance jo ki ek boy's solo dance performance hai, tital hai 'kala chasma' aur ise lekar aa rahe hain rohit sanyal. To aaiye enjoy karte hain is performance ko.
(Prastuti samapt)
12. Boy's solo dance 'hamma hamma'
Anchor male– bahut khoob, jordar taliyan. Function ka label of standard badhta hi ja raha hai. Mai next performance ke liye invite karta hoon prasang jain ko jo lekar aa rahe hain ek dhamakedar dancing prastuti jiska naam hai 'hamma hamma' yaar sach me bahut hi shandar song hai. I really love it. To chaliye start kiya jaaye..
(Prastuti samapt)
13. Short play on 'swachhta abhiyaan'
Anchor female– please give him a big hand. sach me kamaal hi kar diya prasang ne. Waah waah…. Ab chalo thodi der ke liye gambhir ho jaate hain. Hamare desh ke mananiya prime minister shri narendra modi ji ne pure desh me swachhta abhiyaan ko ek apariharya muhim bana ke rakha hai. Unki is abhinav pahal se desh me jagrukta badhi hai. Aur log swachhta ko lekar aware huye hain.
Anchor male– ji han.. Aur fark bhi spasht nazar aane laga ha. Lekin mission abhi adhura hai. Ham sab desh ke yuva peedhi hain. Hamara is vishay me jagruk hona Aur isme hamari sakriya bhagidari ati avashyak hai. Kyonki sabse harmful biomedical waste failane ke jimmedar ham hi hote hain.
Next performance ek short play hai jo ki is abhiyaan ke prati hamari accountability aur hamari duty ko define karti hai. Mai 1……….., 2…………, 3………..,4…. . ……, 5……….., 6………… Ko chaar panktiyon ke madhyam se amantrit karta hoonki vo aayen aur apni sarthak performance prastut karen. Panktiyan kahta hoon ki..
Asmaan se unchi hamari shaan ho jaye
Saare zahaan me hind mahaan ho jaye
Aao kasam uthayen kuch aisa kar jane ki
Ki Swasth Aur swacch hindustaan ho jaye.
(Prastuti samapt)
14. Solo singing
Anchor female– Superb.. jordaar taliyan. Taliyan 1 minute tak bajti rahni chahiye. Bahut sarthak aur sundar message diya gaya hai is play se.. (thoda ruk kar) oh aap log to thoda jyada gambhir ho gaye.. are guys serious kal se hona, hona jaruri hai is vishay me. Lekin aaj to masti karte hain. Chalo apki seriousness abhi bhagati hoon.
Apko ek behatreen singer se milati hoon jiski meethi sangmarmari awaz ko sunkar aapki saari seriousness gayab ho jaayegi. Next solo singing performance lekar aa rahe hain parth singhai jo ki gaane wale hain 'mere rashqe kamar' to aaiye sunte hain is madhur geet ko..
(Prastuti samapat)
15. Shero shayari
Anchor male– Jordar taaliyan.. waah waah.
Aise lahra ke toon rubru aa gayee
Dhadkane betahasha dhadakne lagi.
Kya baat kya baat kya baat.. Ham to kho hi gaye the…Jitna dilkash gana hai utne hi dilkash tareeke se parth ne gaya hai. Chalo chalte hain next performance ki or.. next round me ek shayar saheb aane wale hain jinki shayari sunkar ke aap sabka dil dhuaan dhuaan ho jayega. Ek sher ke saath mai Shayar saheb Anzum vaarsi ko invite karta hoon ki..
Vo chhip chhip ke bahut roye
Unhe maalum hi kya hai
Vo mai hi hoon jo unki aankh se
Har baar bahta hoon.
Jordar taaliyan.. yaar kabhi mere liye bhi taliyan baza diya karo.. ok chaliye sunte hain is performance ko..
16. Award ceremony
Anchor female– wa wa wahhhhh.. kya baat hai. Manch loot liya Anzum saheb ne to.. sabne shero shayari sunaai hai to mai kyon peeche rahoon.. ek shayari meri taraf se bhi. Arz karti hoon ki…
Waqt lagega aasmaan se jayega
Mahaz dhuwan hai ye bhi kaam se jayega
Nuskha muskha dawa duwa karte rahna
Dard puraana hai aaraam se jaayega.
Thanks thanks.. Guys waqt ho chala hai aaj ke kalakaron ko sammanit karne ka.. hamare event ki nomination category thi, best performance of the day, best fresher of the day male and female.. mai is category ko host karne ke liye hamare senior ……….Sir ko stage par amantrit karti hoon ki vo aayen aur saare ceremony ka kram sampann karen.
(Award ceremony samapt)
17. Group photo session
Anchor male– Many many congratulations to all winers. Definitely aap isse bhi jyada deserve karte hain. Realy bahut maza aaya. Aap sab log group photo ke liye  branch by branch stage par aate jaayen.. photo session ke baad delicious feast party enjoy karke jaayega jiska arrangement side ke haul me kiya gaya hai. Ab mai apka host jalaj shinde aap se vidai leta hoon. Best of luck. Bahut shubhkamnaye.
18. Aabhar speech
Anchor female– mai student association ke president hamare senior………Sir ko amantrit karti hoon ki vo aabhar speech dekar is event ka vidhivat samapan karne ki ghoshna karen. Thank you very much guys. Jio jee bhar ke..