February 18, 2018
Freshers Party Anchoring Script in hindi – फ्रेशर्स पार्टी एंकरिंग स्क्रिप्ट, फ्रेशर्स पार्टी हिंदी में स्क्रिप्ट प्रस्तोता, frehser's party anchoring quotes in hindi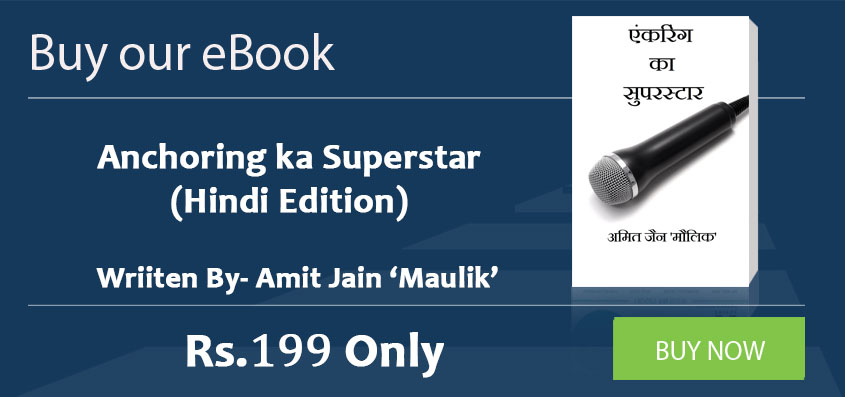 Freshers Party Anchoring Script in hindi– Anchoring ke sabhi sitaron ko Amit Jain 'Maulik' ka snehil abhivadan. Bahut dinon se hamare students ke liye events karne wale anchor mitron ki demand thi ki mai Fresher's party ke liye anchoring script likhun. Mujhe khed hai ki mai ise kaafi der baad uplabdh kara paya lekin khushi hai akhirkar kar paya. Yah article Freshers Party Anchoring Script in hindi maine hinglish me likha hai kyonki aisi hi maang thi. Agar aap sabka aadesh hua to ise hindi font me bhi available kara dunga. Apna valuable feedback is article ke bare me zarur den.
Freshers Party




Anchoring Script in hindi
Peechhe chhodo bachpana
Bhool jaao ghar dwaar
Frehsers ki hai party
Masti kar lo yaar.
Anchor Male-Hello Everyone, definitely aaj ki party fultoos masti ki party hai. Aaj ke is color full event 'D & D frehsers party' me, mai aapka host Jalaz shinde, ……….2nd year, yahan upasthit aaj ke chief Guest param adarniya VC Sir, aaj ke karyakram adhyaksh respected Dean Sir, All Respected HODs, respected faculties, seniors aur apne colleagues ka heartly welcome karta hun.
Anchor female– ji han guys, aaj ke is event ko agar tag kiya jaaye to best tagline kya hogi, any guess?? Are?? matlab aap sab ko andaza hi nahin ki yahan kya dhamaal hone wala hai, ok ok, abhi pata chal jayega, tagline hai ' dhoom macha de-rang jama de' yes! aaj ham bahut bahut bahuttttt masti karne wale hain. Aur ye masti keval aur keval hamare newbies ka welcome karne ke liye organise ki gayee hai.
Dear naye dosto, mai Stuti shrivastava…………2nd year aaj ke is masti bhare event ki co-host aap sabka masti bhara welcome karti hoon.
Anchor male– are stuti, masti to baad ki baat hai, pahle inke face expression to dekho, ye log abhi isi baat me ulajh gaye hain ki ye 'D & D' kya hai? Achcha chalo mai aap hi se poochhta hun.. any guess? koi bata sakta hai kya !! Any one ??
Anchor female-Kya yaar, aap logon ko bahut kuchh sikhaana padega.. Chalo ok.. mai hi bata deti hun. Here D means dude representing boy freshers and another D is diva for girl freshers. Ok.., Now guys, please big round of applause for yourself.
chaar panktiyan in dude aur diva ko dedicate karna chahti hoon ki-
lo uthe falak ki or kadam
ham bharne udaanen nikle hain
jal utheen mashaalen haathon me
kar vash me havayen nikle hain.
Anchor male– Waah waah, aap ek baar jordaar taaliyon se apni presence notice kara den. Thank you very much.
Dear friends, keval teen shabd- utsaah, ummeed aur utkanttha, yaani Excitement, hope and querisity. ye teen shabd aise hain jo naye students ke liye bahut mahatwa rakhte hain.
Anchor female– ji han, jab bhi kisi naye college ke naye vaataavaran, nayee faculties aur naye seniors ke beech me ham apna umangon bhara pahla kadam rakhte hain to kai sawaal as a fresher hame pareshaan karte hain, jaise ki yaar kaisa hoga? kaise hoga? kya hoga?'
Ham seniors, freshers party ka aayojan isiliye karte hain ki freshers ke dilon se hagitation thoda kam ho jaye. mat bhuliye ki ham bhee kabhee udhar hee the jidhr aap ho. Chaar lines aap logon ko saunp kar apna vishwas aap sab newbies ko deligat karti hun ki..
Yah agar jang hai,
to ham mil kar ladenge
Yah agar mohabbat hai,
to dil se karenge
Kick maaro saari tension
ko, mere yaaro
Aaj only masti karo,
baaki baat kal karenge.
Anchor male– waah waah, is baat par to zordaar taliyan banti hain… Taaliyan!!!! Mere naye dosto, yahi yahan ka culture hai. Is intistute me masti karte karte ham kab hasti ban jaate hain pata bhi nahi chalta.
Anchor female– Technology ki education ke liye india ka landmark institute …………… indore jiske ham students hain, aaj apne aap me ek misaal ban chuka hai.
Hamaare is priy, prasiddh aur renonwed institute ne jis tarah se hamaare sampoorn vyaktitva ka nirmaan kiya, apnepan ka ehasaas karaaya, sabhee seniors aur mentors ne hamara margdarshan kiya wah asadharan aur bemisal hai.
Anchor male-Aur agar best ko best mil jaaye to fir double bonanza ho jata hai. Aap sab frehsers bhi kuch kam anokhe nahin dikh rahe. Is baar ka new batch to ekdam shandar aur jandar dikh raha hai. Chaar panktiyan aap sab frehsers ko dedicate kar raha hoon ki-
ye zid manmaani aur hee hai
ye naee javaanee aur hee hai
is baar ka jalwa aur hee hai
is baar kahaanee aur hee hai.
Jordaar taaliyon se aap sab apne aap ko appreciate kar sakte hain. Great Great..Thank you
For read more please visit page 2-