February 18, 2018
Freshers Party Anchoring Script in hindi – फ्रेशर्स पार्टी एंकरिंग स्क्रिप्ट, फ्रेशर्स पार्टी हिंदी में स्क्रिप्ट प्रस्तोता, frehser's party anchoring quotes in hindi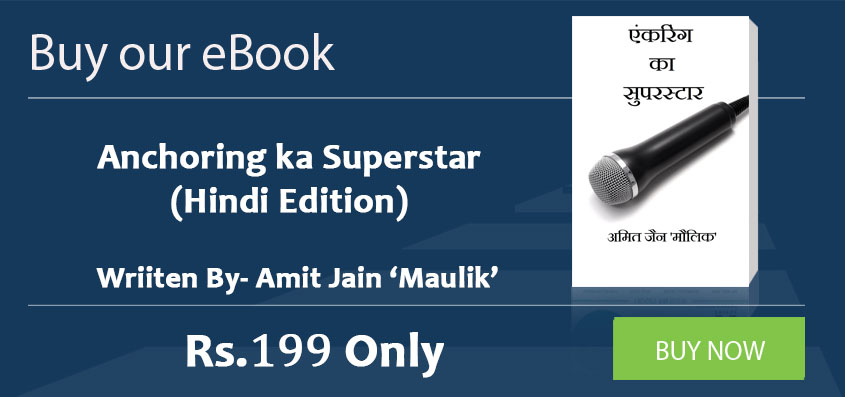 2. Lighting the lamp
Anchor female– now it's time to start our function, mitro jaisa ki hamara rich culture hai, ham kisi bhi event ke arambh ko shubharambh banane ke liye sarv pratham gyan ki devi Maa saraswati ke chitra ke samaksh deep prajjwalan karte hain. Aur unse pray karte hain ki hamare hridaya se agyan ka andhkar dur kar gyan ka prakash bhar den.
Anchor male- bilkul stuti, mai Respected VC Sir and  Dean Sir se request karta hoon ki vo stage par padhaar kar lighting the lamp ki divy parampara ko sampann karen.
Chaar panktiyan is divya kram ke liye padhna chahta hoon ki..
He maat apne noor se
Kuch is tarah bhar de hamen
Tufaan ho aandhi chale
Par roshni jalti rahe.
(Deep prajjwalan ka samapan)
Jordaar taliyaan is pavitra kram ke liye…
3. Welcome dance
Anchor female– bahut hi sundar. Mai hamare chief guest VC Sir and karyakram adhyaksh respected Dean Sir se stage par virajit hone ka nivedan karti hoon. Hamare dignitaries ke samman me welcome dance prastut karne ke liye aditi mehta ko in panktiyon ke saath invite karti hoon ki..
Man aaj mayuri ban naache
Sangeet bhar gaya hai tan me
Sanidhya mila to jhum uthe
Kar uthe nritya abhinandan me.
(Welcome dance samapan)
Jordaar taliyaan…..Wah wah.. bahut hi mohak nrity prastuti.
4. Chief Guest welcome
Anchor male– friends, jaise ki gagan me chaand ke na hone se sitaaron se bhara aasmaan bhi arth heen dikhta hai, usi prakar agar kisi cultural event ko kisi charchit aur jaani maani hasti ka mangal sanidhya na mile to wah karykram bhi meaningless ho jata hai.
We are very fortunate ki vidwata aur adarsh ki pratimurti jaani maani hasti Param adarniya VC Sir Mr…………Hamare is karykram me chief Guest ke roop me manch par virajit hain. Mai inke abhinandan ke liye ………….Ke hod Dr………Se anurodh karta hun ki vo hamare chief Guest ko bucket aur Memento dekar unka swagat karen.
Respected VC Sir ki miracle shakhsiyat ko chaar panktiyan saunp kar unko naman karna chaahta hoon ki..
Saral vyaktitva me hamko,
Khudaai noor dikhta hai
Madhur vaani agar sun len,
Sukoon bharpur milta hai
Farishte the kabhi hamne,
Suna tha baat sach nikli
Hame to aapme bhagwan ka,
Ik doot dikhta hai.
Jordaar taaliyon se apne chief Guest ka abhinandan kar den. Bahut dhanyawad.
(Swagat kram sampann)
5. Karykram adyaksh welcome
Anchor female– swagt kram ko aange badhate huye mai aaj ke karyakram adhyaksh hamare adarsh, hamare prerak, hamare bhavishy ko badhne wale kushal shilpi is   college ke dean Dr…………Ji ki azeem hasti ko chaar panktiyan saunp kar unke swagat ke liye …………Ke hod Dr…………..Sir ki manch par amantrit karti hoon ki..
Aap to ek paras hain,
Jo sona pal me karte hain
Kushal shilpi kahen patthar,
Sughad moorat me dhalte hain
Mili sohbat hamare bhagya,
hain Shrimaan ji aaye
Hai abhinandan hamare man,
Naman vandan ko karte hain.
Jordaar kartal dhwani se hamare dean sir ka abhinandan kar den. Thank you
(Swagat kram sampann)
6. Chief Guest Speech
Anchor male– is garima purn welcome ke kram ko dekhkar hamara man hamari dignitaries se kuch ashirvachan sunne ka ho raha hai. Aur aisa suavasar hame kahan baar baar milta hai.
Mai param adarniya chief Guest Sir se request karta hoon ki vo apne mukharavind se kuch ashirvachan kah kar ham students ka path pradarshit karen.
(Bhashan ka samapan)
Jordaar taaliyon ki dhwani se hamare VC Sir ka dhanyawad kar den. Thank you very much Sir.
7. Dean Speech
Anchor female– bahut hi prerak udbodhan tha. Thank you very much Sir. Mai jaanti hoon ki aap sab newbies hamare Dean Sir ki speech ka wait kar rahe hain.
Mai jyada intezaar na karate huye Respected Dean Sir se nivedan karti hoon ki vo aayen aur newbies ke liye kuch disha nirdesh den jisse unko urja mile unka path pradarshit ho.
(Bhashan ka samapan)
Big round of applause to Dean Sir. Thank you thank you guys..
8. Girls group dance 'sweety tera drama'
Anchor male– Now it's time to enjoy our party. Pahle 3 group dance performances hongi. Then 2 performances solo dance ki, then swachhta abhiyan par short play, 1 solo singing performances, 1 masti bhari shero shayari ki performance  and last round me best performance of the day, best fresher of the day male and female award ceremony, group foto booth and last me feast party.
Anchor female– yes.. bahut maza aane wala hai. Mai pahli prastuti jo ki ek girls group dance performance hai ke liye invite karti hoon 1………, 2………., 3…….., 4…….., 5……., 6………ko jo ki lekar aa rahin hain 'sweety tera drama macha de hangama' so Are you ready..( tej awaz me puchna hai) kya?? Are awaz nahin pahunchi mujh tak. Are you ready ( aur loud awaz me puchna hai) okkkkkk….. Performance pesh ki jaaye.
(Prastuti samapt)
For read more please visit page 3–